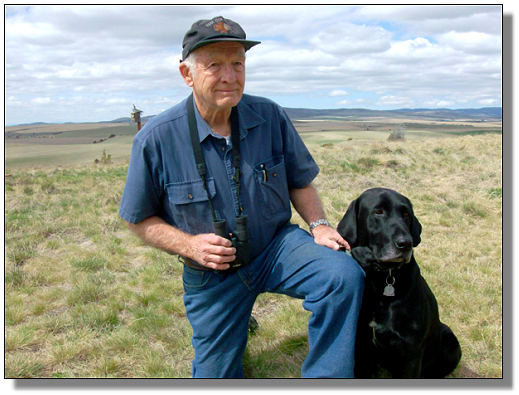 James (Jim) Bailey grew up in Chicago where library books created an interest in a career-path toward forestry. However, while completing a BSc degree (1956) in forestry at Michigan College of Mining and Technology (now Michigan Tech University), he discovered the profession of wildlife management. This led to graduate work in forest-zoology at the State University of New York, College of Forestry at Syracuse University.
For his MSc degree (1958) he studied wildlife use of conifer plantations in upstate New York. Continuing graduate work at the University of Michigan was terminated by his draft board. He married the former Natalie Ann Jewett and they spent the army years together in Maryland where Jim was stationed at the Army Chemical Center studying wound bacteriology. Thus, one of Bailey's earliest publications is in the Journal of Laboratory and Clinical Medicine.
Following army service, Jim returned to the College of Forestry at Syracuse during 1962-64. His PhD research investigated ecological variation of crude protein levels in witch-hobble deer browse in the Adirondack Mountains. The thesis was written in absentia and the degree awarded in 1966.
During 1964-68, Bailey studied cottontail rabbits at the Illinois Natural History Survey. He credits much honing of his writing skills to his association with editors of the Journal of Wildlife Management at the Survey. Cottontail research stimulated his interest in mammal nutrition and behavior.
Bailey left the flatlands of central Illinois for the Rocky Mountains in 1968. He served as instructor in wildlife management at the University of Montana, 1968-69, and landed an instructorship at Colorado State University in 1969. At Colorado State, he taught Principles of Wildlife Management, Wildlife Nutrition, Big Game Management, and Population Dynamics, among other courses. He was senior editor, assembling the book, Readings in Wildlife Conservation for The Wildlife Society in 1974, and published Principles of Wildlife Management with John Wiley & Sons in 1984.
Bailey mentored several graduate students at Colorado State, concentrating research on wild ungulates, especially bighorn sheep and mountain goats. Many resulting publications have graduate students as senior authors as Bailey considered publication to be an essential step toward launching their careers. He retired from Colorado State as a full professor in 1990.
Exchanging the ivory tower for the "real world", Jim served as assistant director of the Conservation Services Division in the New Mexico Department of Game and Fish during 1993-98. He oversaw state programs for endangered species, habitat conservation and watchable wildlife.
In retirement, Jim has remained active with wildlife conservation issues, first in Santa Fe and now in Montana. An interest in bison produced the book: American Plains Bison: Rewilding an Icon in 2013. Over the years, he has written or contributed to over 70 publications in wildlife biology and management – in peer-reviewed and other media. In his final years, he hopes to leave a legacy through commentaries and essays on his website: Wildlife Management: We Can Do Better.